Naturally beautiful
In Saranac Lake, we take the outdoors seriously, so if you're looking for endless options to get outside, you've come to the right place.
Hit the trail, explore the water
The outdoor are so close to downtown Saranac Lake it's possible to be on the trails within minutes! Mountain biking, hiking, trail running, birding, road cycling, golfing: all activities are right outside your door. Even in winter, the options don't stop, with cross-country skiing, downhill skiing and sledding, and snowshoeing all right here. This fall, if you're feeling adventurous, take on the Saranac Lake 6ers. These are six mountains in the Saranac Lake region that need to be climbed to earn the 6er patch. You can even take the challenge in the snow and earn your winter 6er patch! If you want an adventure that is more low key, spend an afternoon exploring the trails at the Paul Smith's VIC or at Saranac Lake's own Dewey Mountain Recreation Center. All of the seemingly endless trails that are easily accessible from Saranac Lake also make for great trips for a few hours or for an entire day.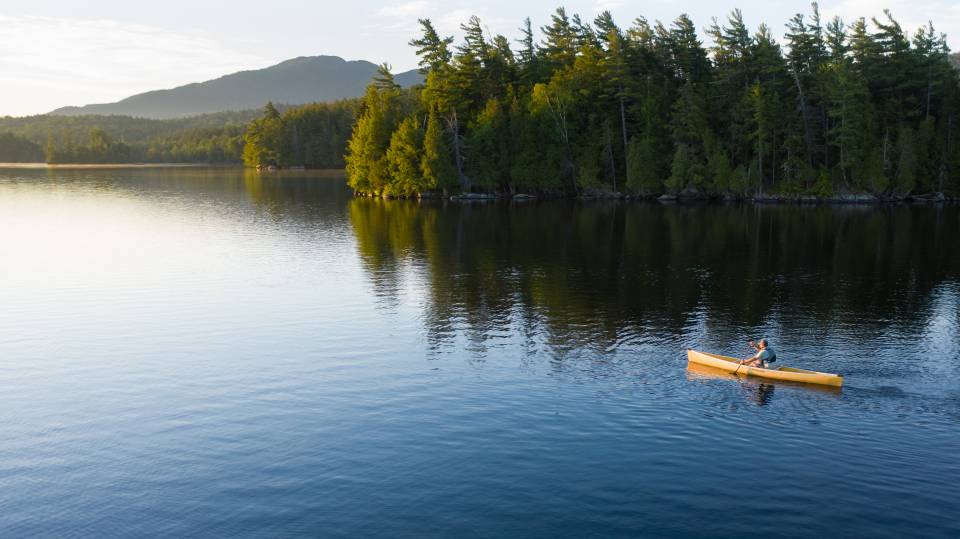 We might be biased, but paddling is one of the best activities to do outdoors in Saranac Lake. (With "lake" right in our name, being on the water just seems right!) Take your canoes and kayaks into the Saint Regis Canoe Area for a backcountry experience or launch on Lake Flower, right in town. Either way, you can't go wrong. Fishing and boating are other ways to get on the water this summer, and with access to the Saranac Lake Chain, you'll find plenty of room to spread out.
When you've had your fill of stretching your legs, kick back and relax in town! Take a stroll though our charming downtown. You'll find artists at work, musicians at play, and plenty of options for food and shopping.
Leave No Trace and Love Your ADK
The magic of the Adirondacks is the result of previous generations taking a long view and protecting the mountains, lakes, and rivers within the Blue Line. That tradition continues today as we support and encourage everyone to practice Leave No Trace ethics, which help protect the lands and waters of the Adirondacks.